EWH3 #1155: The Rick and Morty Trail! – 6:45 PM Thursday, November 21st- Rosslyn (Blue/Silver/Orange)
Hey, look at me Morty, I turned myself into a trail announcement. What up, my glip-glops? It's time for the Rick and Morty trail you've always wanted but never had. Flip the pickle Morties, it's time to get schwifty. Wear anything from a different reality or whatever you want, nothing you think matters actually matters. So come out and get riggety-riggety wrecked son!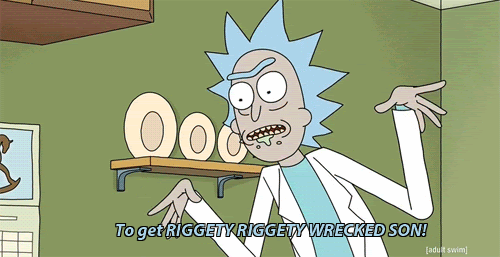 When: 6:45 circle up, Pack away 7:15!
Where: Rosslyn Metro – follow marks to start!
Hares: #Squadholes, Tik Tok it's Dik O'Clock, Heaven's Gape and Quid Pro Blow
Trail length:
Runners: 1.9mi first half, 1.7mi second half
Walkers: 0.9mi first half, 0.75mi second half
Theme: Rick and Morty
Miscellaneous crap: Trail is A to A with a couple Rick vs Jerry splits (don't be a Jerry, Jerry), a few Kennedy Sex Tunnels, two Meeseeks, and 0.69 shiggy. It's obviously going to be cold and dark- tough titties- so bundle up and bring a headlamp + mug. Don't forget to use your brain and have fun. 
Last trains out of Rosslyn:
Blue: Franconia-Springfield 11:47 PM, Largo Town Center 11:25 PM
Silver: Wiesel-Reston East 11:30 PM, Largo Town Center 11:12 PM
Orange: New Carrollton 11:14 PM, Vienna/Fairfax-GMU 11:45 PM
On After: Continental
Specials: Schezuan Sauce
P.S. Wubba lubba dub dub.
https://www.ewh3.com/wp-content/uploads/2018/01/EWH3_logo-No-Background.png
0
0
Harerazor
https://www.ewh3.com/wp-content/uploads/2018/01/EWH3_logo-No-Background.png
Harerazor
2019-11-19 12:38:02
2019-11-19 12:38:06
EWH3 #1155: The Rick and Morty Trail! – 6:45 PM Thursday, November 21st- Rosslyn (Blue/Silver/Orange)