EWH3# 853: The Trail of (Not So) Biblical Proportions! – 6:45 PM Thursday, October 16th, Union Station (Red Line)
When: 6:45 PM Thursday October 16th, 2014.  Pack away at 7:15!
Where: Union Station Metro (Red Line)- follow marks to the start at Columbus Circle!
Hares: Pinocchi-Moses; The NotSoVirgin Lying Mary, the Bitch, and the Whoredrobe; Tosh.Jesus; Yellow Mary Magde-Line; and Vladi-Mir-acle Fruitin.
Weather: Biblical.
Miscellaneous Crap: Jesus walks.
On On On: Alba Osteria!
Virgins: Just Margaret, Just Marc, Just Anna, Just Stephanie, Just Brett, Just Casey, Just Kristie, Just Joe, Just Erika, Just Christine
Visitors: Fire In the Hole (Crescent Shiggy and somewhere in Florida that I didn't hear), Mexican Gum Job (Crescent Shiggy), Just Jessica (Shanghai H3)
And the third V, according to the Gospel of Gispert…. VIOLATIONS!!!!!!
Glitty Clitty Gang Bang and S&MOM had their house cleaned by a cleaning service for the first time, and the cleaners managed to find some lost items, including clit jewelry, stray condoms, and a strap on. In other news, these guys are looking for a new house cleaner so if you know anyone…
So last Friday night, All Flash No Drive took her clothes off and partied like a rock star. And then she decided to go home, so she went outside and  hailed a cab and then realized she had left her clothes inside the hotel room. Oopsie poopsie!
Yellow Line intended to buy a sexy robe for the BLT trail last week, but when her package arrived, it contained one leather wallet. Skilled shopping…
Head Injury approached me concerned about an encounter we had outside of red dress on Saturday, and said, "oh my god I hope you didn't think I was pooping!" Which is amazing because I have no idea what he's talking about!
Saigon Sally literally picked up a homeless woman on trail. That's Tragic's job!
Tosh.Homo a few days ago I had the privilege of listening to Tosh rant about how homoerotic collegiate wrestling is, and before I could say anything, he goes "yeah, man I really miss it"
(Homoerotic? I have no idea what he's talking about…)
The Hares were violated for laying an overly complicated trail. You know us, you know we are not very smart.
And then we did what we always do… we had a NAMING!!!!
Just Max works at NIH, attended the University of Minnesota, and would like to have sex with Jasmine (the cartoon). The meanest thing ever done to a girl, in classic midwestern fashion, involved having sex with her and not wanting to date her. He swiped his V card the summer before his sophomore year of high school after being picked up by his girlfriend and brought home to her parents' house (and then driven home afterwards after her mom walked in on them). His most interesting sexual experience involved road head: he was driving to his cabin and wanted to finish, so he drove in circles in bumfuck Minnesota until he did. He once ate lead paint and had to get his stomach pumped. Names were suggested, the best of which were "The Gaytona 500," "Pick Up Fuck," and "Far-Blow." The crowd voted, and henceforth and forevermore, Just Max will be known as Far-Blow!
And then we had another very solemn occasion… Rape and Spillage's favorite, a double-naming!
Just Ian works for the World Bank, attended Nottingham (in the UK), and swiped his V card in the back of his mom's Mini Cooper. He, I quote, "shits his pants regularly," enjoys making fun of America, and loves MILF porn/masturbating with socks. Many many many amazing names were suggested (Great Bowels of Fire! Mini Pooper! Ass-tin Farted! Queen A Jizz a Beth! Men in Shites! The Whore of 1812!), but once General Porn Wallace was suggested, the crowd went wild.
Also in case you missed it, your not-so-sober GM Cutting Class tried to steal it dog. It looked something like this: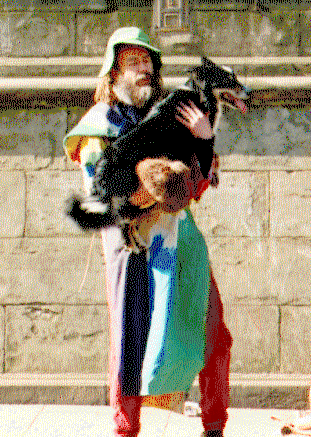 except CC was running and the dog was NOT impressed.
On- someone steal me a puppy plz- on,
Mr. hEd
https://www.ewh3.com/wp-content/uploads/2018/01/EWH3_logo-No-Background.png
0
0
Scribe
https://www.ewh3.com/wp-content/uploads/2018/01/EWH3_logo-No-Background.png
Scribe
2014-10-17 12:39:55
2014-11-09 11:39:32
Hash Trash: EWH3 #853: The Trail of (Not So) Biblical Proportions!