This is somewhere about the 15th or 16th year your hares are hosting this trail!  Don't look to get your marathon training done for the week on this trail.  As the fairest member of your hares so eloquently put it years ago, "You won't burn off the calories found in one scoop of mashed potatoes and gravy!"  This trail is short and sweet.  Walkers trail is even shorter than runners. 

We will be providing our famous shots of Wild Turkey!  Along with one or 2 other surprises.  Shamrock usually also provides us with a special treat.  This is normally one of the drunkest trails of the year that doesn't have Twinkle juice!  So come hang out with us and drink your fill during the day and then go stuff yourself with food later.
When: SPECIAL START TIME of 11AM
Pre-Lube: Begins at 10AM at the parking deck.  Bring your own drinks!  No alcohol will be provided from the hash until after trail has started.
Start:  Parking deck above the Continental in Rosslyn, VA
Hares:  Please Step Away from the Whores, Purple Peter Eater, Aeriola Borialis, and maybe a mystery hare or 2.
No On After:  Go home and bother your real family
Metro: Metro is running on holiday schedule so plan on waiting 20 minutes between trains.
/
by ewh3razor
https://www.ewh3.com/wp-content/uploads/2018/01/EWH3_logo-No-Background.png
0
0
ewh3razor
https://www.ewh3.com/wp-content/uploads/2018/01/EWH3_logo-No-Background.png
ewh3razor
2019-11-24 18:49:55
2019-11-24 18:49:58
EWH3 #1156 Thanksgiving Trail 2019 in Rosslyn
Hey, look at me Morty, I turned myself into a trail announcement. What up, my glip-glops? It's time for the Rick and Morty trail you've always wanted but never had. Flip the pickle Morties, it's time to get schwifty. Wear anything from a different reality or whatever you want, nothing you think matters actually matters. So come out and get riggety-riggety wrecked son!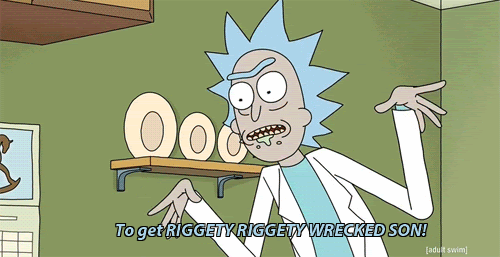 When: 6:45 circle up, Pack away 7:15!
Where: Rosslyn Metro – follow marks to start!
Hares: #Squadholes, Tik Tok it's Dik O'Clock, Heaven's Gape and Quid Pro Blow
Trail length:
Runners: 1.9mi first half, 1.7mi second half
Walkers: 0.9mi first half, 0.75mi second half
Theme: Rick and Morty
Miscellaneous crap: Trail is A to A with a couple Rick vs Jerry splits (don't be a Jerry, Jerry), a few Kennedy Sex Tunnels, two Meeseeks, and 0.69 shiggy. It's obviously going to be cold and dark- tough titties- so bundle up and bring a headlamp + mug. Don't forget to use your brain and have fun. 
Last trains out of Rosslyn:
Blue: Franconia-Springfield 11:47 PM, Largo Town Center 11:25 PM
Silver: Wiesel-Reston East 11:30 PM, Largo Town Center 11:12 PM
Orange: New Carrollton 11:14 PM, Vienna/Fairfax-GMU 11:45 PM
On After: Continental
Specials: Schezuan Sauce
P.S. Wubba lubba dub dub.
/
by ewh3razor
https://www.ewh3.com/wp-content/uploads/2018/01/EWH3_logo-No-Background.png
0
0
ewh3razor
https://www.ewh3.com/wp-content/uploads/2018/01/EWH3_logo-No-Background.png
ewh3razor
2019-11-19 12:38:02
2019-11-19 12:38:06
EWH3 #1155: The Rick and Morty Trail! – 6:45 PM Thursday, November 21st- Rosslyn (Blue/Silver/Orange)